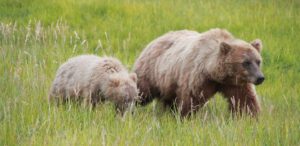 Lake Clark National Park & Preserve
Flightseeing with Bear Viewing

Your Lake Clark National Park Bear Viewing Adventure Begins when you depart Anchorage on one of our aircraft and head south along the Cook Inlet. The flight in itself will be a spectacular flightseeing tour; this scenic route takes you by 3 active volcanoes, numerous salmon streams, glaciers, and other Alaskan sights. The flight down takes about 1 hour, once there the aircraft will land on the beach at low tide. Once you are on the ground, your pilot will give you a brief bear orientation
The Lake Clark Bear Viewing Begins after a brief bear orientation aimed at group safety. You will head out into this ideal bear habitat to watch these creatures interact with each other in the wild. Your pilot will take you through the park, adding to your safety and answering any questions you may have about the bears. The area is excellent for viewing the bears because of the layout and geography; it is a long stretch of prairie grassland and beachfront. Watch as they frolic in the grass with their cubs, dig for clams, and take afternoon naps. Lake Clark National Park is beginning to be well known as the best bear viewing in Alaska, and for good reason. This area is home mostly to Brown Bears, but it is not uncommon to see a few Black Bears in the area as well. This tour includes a hearty packed lunch!
*This tour requires a moderate amount of walking on uneven terrain (approximately 2-3 miles)
What to Bring and Wear
Footwear – Rubber or waterproof boots. If you do not have any boots, Regal will provide you with a pair.
Camera
Binoculars – If you do not have any you may share some with the bear guide
Layered Clothing – Always be ready for any temperature range, bring a rain shell in case of rain
Lake Clark National Park and Preserve is a land of stunning beauty. Volcanoes steam, salmon run, bears forage, and craggy mountains reflect in shimmering turquoise lakes. Here, too, local people and culture still depend on the land and water. Venture into the park to become part of the wilderness. Lake Clark preserves the ancestral homelands of the Dena'ina people, an intact ecosystem at the headwaters of the largest sockeye salmon fishery in the world, and a rich cultural wilderness. Lake Clark National Park and Preserve offers world-class bear viewing opportunities on the coast where brown bears congregate in high numbers to feed. Information on this page will help you plan your bear viewing adventure. Learn and when to go to see bears, become familiar with bear viewing best practices. Then watch the park's beautiful new 11 minute-long film, A Day on the Lake Clark National Park Coastline to get a feel for the experience of being on the coast with bears.
Bear Viewing Tour Price Includes:
Services of an elite Alaskan floatplane pilot and Bear Guide
Boxed lunch and bottled water included
Not Included in Tour Price:
Gratuity for your pilot/guide
Tour Price:
All bookings are are handled personally the Wild Journeys staff. Please Contact Us and together we will create your wild journey!
Activities that go well with Flightseeing