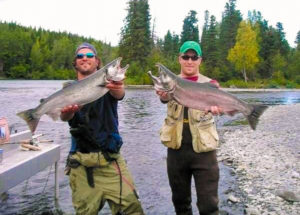 Kenai River Fishing
Spend a Full-Day floating the Kenai River fishing for Silver Salmon (Coho), Rainbow Trout, and Dolly Varden!
Your day will start with comfortable transportation from Anchorage to your fishing lodge, about 2 hours. You'll be on the water fishing for about 8 hours. Lunch is included on your trip. When your fishing journey ends, your fish will be processed and can be shipped to meet you at your home when you return. Your day will wind down with a relaxing drive back to Anchorage. Your guide can organize dinner for you to eat on your drive back.
Depending on location and what you would like to fish for, you'll either fish from a boat or walk to the fishing location and wade fish. Fly fishing is recommended, your guide will be a great teacher! Spincast fishing is also available.
Your Fishing Guide will be a fishing fanatic and is on the water the entire year, rain or shine; you're getting a guide who knows where the fish are and will also give you the best chance at hooking into that fish of a lifetime.
When planning your day of fishing, you'll be advised on which section of river is most strategic, depending on your expectations and desires; you can expect a full and honest fishing report from your guide the day before, which will help you make the best decision possible for your full-day trip.
Standard practice is to catch and release all wild Rainbow Trout, Dolly Varden, and any other un-targeted catch. We love this river and want to be sure the big fish (and little ones) are still here for our future generations. We appreciate your support in our conservation-focused decision to do our part in keeping the population up. 
Tour Price Includes:
Round-trip transportation from Anchorage
Services of an experienced Alaskan Fishing Guide
Fishing tags
Comfortable, 8-hour river fishing
Lunch on your float
Fish processing
Not Included in Tour Price:
Fish Shipping cost

Your guide will assist you in coordinating your catch to be delivered to your home when you return from you Alaskan journey

Dinner (your guide can accommodate a dinner for you to enjoy on your drive back to Anchorage)
Gratuity for your guides
Tour Price:
Single $830, 2 people $1250, 3 people $1775, 4 people $2282 (total cost may be variable, based on the most strategic section of river you'll be fishing
All bookings are are handled personally the Wild Journeys staff. Please Contact Us and together we will create an epic adventure!
Activities that go well with Kenai Fishing: